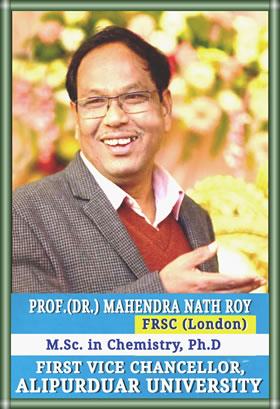 It is my great honour and immense pleasure that destiny has given me an opportunity to lead Alipurduar University as the first Vice-Chancellor.
Alipurduar University is the first state aided University of Alipurduar district which was inaugurated by Smt. Mamata Banerjee, the Hon'ble Chief Minister of West Bengal. We all welcome everyone to Alipurduar University. Alipurduar is an extensive area in the eastern end of the Dooars in West Bengal situated on the east bank of Kaljani River on the foothills of the Himalayas. It is also the gateway to Bhutan and north-eastern states of India and is inhabited by people of various castes, creeds, communities and ethnic groups of West Bengal.
It was a long-cherished dream of a University at Alipurduar by the people of this locality. With the up-gradation of the existing Alipurduar University to Alipurduar University, the aspirations of the people have become a reality. On occasion of this marvellous moment, I want to share my excitement with all aspiring and ambitious students, respected guardians and all respected citizens, and humbly appeal all to be associated with and contribute to the realization of the Vision and Mission of this newly born institution. I also take this opportunity to acknowledge the selfless services of all the people of this locality whose endeavour has resulted in the establishment of this institution and achieving the present status.
The Mission of this University would be to make far reaching and positive impact on the world through the education of our students and to empower the society to overcome the backwardness by achieving enlightenment through quality education. The University aspires to offer quality education in different fields such as Arts, Commerce and Science and create a niche for skillful youths who will be empowered in the nation building process. Apart from offering education in traditional subjects, we plan to establish new centres for excellencies in Tea, Tourism, Food, Wood, Health, Local languages, Physical education etc. in collaboration with lead centres from India and abroad which have the potential for opening the door to new opportunities.
I would like to conclude by quoting the great poet, Guru Rabindranath Tagore that "The higher education is that which does not merely give us information but makes our life in harmony with our existence".
Once again, I heartily welcome all stakeholders and earnestly hope that a united endeavour with dedicated hearts will open up new horizons for the service of the society.